The first edition of Viva Technology took place at Paris Expo Porte de Versailles this yearCette année se déroulait la première édition du salon Viva Technology à Paris Expo Porte de Versailles.The meeting was divided in LABs owned by several corporations like SNCF which was our host. We showcase a virtual visit at real scale of a new coworking space instaled in an old train station. The 3D mockup was realized by Realiz3D our partner on this subject.
For public day, we have activated the fun and sport applications with a lot of success! We have welcomed a lot of curious people who had a lot of fun in the system from 9am to 7pm !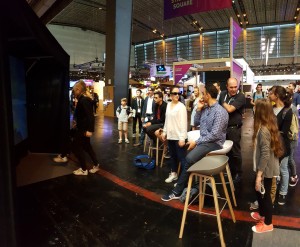 Rendez-vous l'année prochaine pour ce salon très prometteur, un petit air de CES à la française.